It would be fantastic to know how your employees truly feel about your company and their part in it, wouldn't it? One-on-one meetings are the kind of check-ins that help managers keep their finger on the pulse of their employees, particularly in the area of employee engagement. However, these meetings can easily become unproductive if not approached with a clear plan and purpose.
The ultimate guide below is designed to help managers effectively communicate with and retain their team members. One-on-one meeting templates should come in handy when planning a discussion.
The Value Behind One-On-Ones
Regular check-ins between an employee and a manager, known as one-on-one meetings (1:1s), are a safe space for meaningful and in-depth communication on work-related matters.
Unlike an annual or mid-year performance review, an employee meets with his or her manager one-on-one either weekly, monthly, or quarterly. This allows managers to ensure that team members have everything they need for their job, are engaged enough, and have no barriers to building a fulfilling career.
At these meetings, you can discuss an employee's work, provide and ask for feedback, address concerns, set goals, and more. Some potential benefits of 1:1s for a company include:
Improved retention. A survey conducted by the SHRM (Society for Human Resource Management) found that employees who have regular check-ins with their managers are more likely to stay with the company.
Enhanced performance. By providing employees with ongoing feedback and support through one-on-one meetings, a company can help improve employee performance and development.
Improved communication. One-on-one meetings can be an effective way for a company to communicate with its employees, as they allow for more personal and private conversations between employees and their managers.
Increased employee engagement. By giving employees a chance to voice their thoughts and ideas privately, one-on-ones can help increase employee engagement and motivation.
Better goal setting. One-on-one meetings can allow managers and employees to collaborate on specific goals and objectives, which can increase productivity and drive results.
One-On-One Meeting Templates & Insights
Uncertainty about what topics to cover in a one-on-one meeting is a common struggle for managers. To help alleviate this, we've crafted inspirational templates packed with thought-provoking questions for various types of one-on-one sessions, from weekly check-ins to maintaining remote work.
First One-On-One Experience
The first one-on-one meeting with a new employee sets the tone for your working relationship. It's your chance to establish trust, build rapport, and ensure that your new employee understands their role(s), expectations, goals, and objectives.
What do you hope to accomplish in your role on our team?
How do you prefer to communicate with your manager and team members?
How do you like to receive feedback on your work?
Are there any specific goals or projects you would like to work on?
Is there anything you would like to bring to my attention or discuss during this meeting?
Questions for a Weekly Meeting
Every time a manager conducts a weekly check-in, they gain updates on the progress of work tasks and valuable insights into the work climate. The key is to ask the right questions, such as the ones below.
What challenges or roadblocks did you encounter in your projects?
Is there anything you would like to work on or any goals you would like to set for the coming week?
How do you feel about the cooperation with your team?
How do you feel about your workload? Do you experience any time management challenges?
Do you have any questions or concerns that you would like to bring to my attention?
What to Discuss During a Monthly/Quarterly 1:1 Meeting
Conducting 1:1s once a month allows both a manager and an employee to reflect on the latest projects and adjust a worker's development path. The examples of questions below will help you manage this process better.
What has been the most rewarding aspect of your work this month/quarter? What has been the most challenging?
Is there anything you feel is missing from your current role that would enhance your ability to perform at your best?
Do you feel engaged and motivated in your work? If not, what could we do to improve your experience?
How have you been feeling about your progress and development within the company?
Do you have any suggestions or ideas for how we can optimize company processes to perform better as a whole?
Annual One-On-One Meeting Questions
The one-on-one meeting conducted once a year is usually a preparation before the annual performance review. This meeting allows managers to gain information about an employee's work attitude and general well-being.
How do you feel about your current role and responsibilities within the team?
In what ways do you feel that the company is supporting your professional growth and development?
Are there any areas where you would like to expand your skills or take on additional responsibilities?
Do you have a good work-life balance? Does the management provide the proper conditions for it?
How do you see your role in the company evolving over the next year, and how can the company support you in achieving your goals?
Insights for a Remote One-On-One
Unlike the on-site work format, employees and managers don't see each other daily and sometimes don't communicate as effectively when working remotely. Thus, one-on-one meetings are a crucial tool for managers to build relationships with remote employees and provide them with support and guidance. The question examples below should help you reconnect with your remote employees.
Do you feel comfortable with the tools and resources provided for remote work?
Are you getting the communication and support you need from your team, considering that you work from home?
Do you feel connected to the company and team culture while working remotely?
Can you share suggestions or recommendations for improving the company's remote work policies and procedures?
How have you felt about your personal and professional growth since you started working remotely?
Tips on How to Prepare for One-On-One Meetings
Are you ready to start transforming your teams? Explore the tips below to make your next 1:1 meaningful and well-structured.
Analyze the Latest Period
A manager needs to review the employee's performance over the previous period before talking about the future. This includes looking at metrics such as sales figures, customer feedback, and engagement records. For example, you can use a tool like Beams.ai to track parameters such as job satisfaction, team cohesion, and energy levels. This analysis will help managers identify areas of success, as well as areas in which employees need additional support.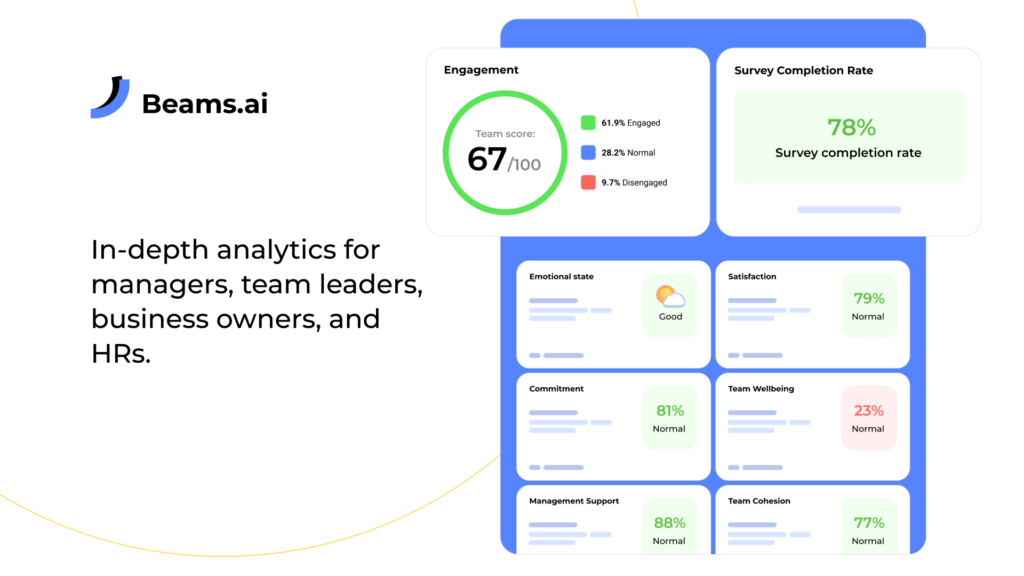 Gather Feedback from Coworkers
Managers should collect feedback from an employee's coworkers to gain a well-rounded understanding of the employee's engagement. This could include interviewing team members or supervisors who work closely with the employee. Managers can also send the employee's coworkers a questionnaire to gain insight into the work attitude of the targeted employee, as well as their soft and hard skills.
Don't Improvise — Prepare Questions
To get the most out of one-on-one meetings, prepare a list of questions in advance. These questions should focus on an employee's performance, goals, improvement areas, needs, and general well-being. You can additionally ask anything that feels relevant.
Book a Meeting Room and Send a Notification in Advance
Managers should book a meeting room at least one week (two would be even better) in advance to ensure that the one-on-one meeting can occur without interruption. This will ensure that the room is available and that you and the employee can have a private and productive conversation. Once you book the space, notify the employee to allow them to prepare as well.
Get Ready to Establish Friendly Communication
One-on-one meetings should allow for open and honest communication between managers and employees. To achieve this, you should establish a friendly and supportive environment during the meeting. Be approachable, practice active listening, and provide constructive feedback in order to foster a safe environment in which your employees can feel comfortable opening up to you.
Let Beams Do the Spadework for Your One-On-Ones
One-on-ones, like personal trainers for your career, keep the lines of communication open, identify roadblocks, and elevate performance for a more substantial business. Accordingly, productive 1:1s require helpful tools that will keep you up-to-date regarding employee engagement and professional development within your company.
Beams.ai is here to do all the time-consuming work for you. With its automated survey system, tailored recommendations, and analytics functionality, you'll always have your finger on the pulse of your employees to track and manage their engagement. Moreover, interactive gratitude features will empower you to fulfill your employees' need for recognition more often than during one-on-ones. Join Beams.ai with our free trial subscription to see results as soon as possible.