Do you agree that a performance review shouldn't be considered a formality that fails to bring about change? Productivity assessment is a complex process that can cause harm when done wrong or can stimulate employees to thrive within a company with the right approach.
However, most businesses continue to implement the standard yearly productivity appraisal model, which limits the potential of the process. "There's no way to get better at something you only hear about once a year," observes Daniel Pink, NY Times bestselling author. Thus, many progressive companies have begun implementing the mid-year performance review — an employee evaluation conducted twice a year.
If you are ready to try this new practice or want to prepare more thoroughly for the mid-year performance appraisal, you are welcome to explore the ultimate guide below. Aside from essential theory and helpful tips, you'll find professional phrases to utilize and questions to ask during this process.
How Mid-Year Performance Reviews Can Transform Your Company
The first stages of company development usually go pretty smoothly because all its members feel motivated and excited about future cooperation. The job of management consists of clear and consistent communication as well as the synchronization of teams.
When a company starts expanding and hiring more employees, keeping in touch with every employee becomes a challenge. Most managers utilize a specific system for tracking productivity, but it's not usually enough to solve issues with growth and global motivation. Alternatively, the mid-year productivity review offers a company many benefits:
Increased employee engagement. Discussing an employee's possible future within the company and setting goals together makes workers feel integral to the big picture. Employee engagement increases 3.6 times more by involving employees in plan building and reflecting on their possibilities in a particular company.
Fulfilling employee needs for professional growth. Just like people have basic needs in their personal lives to be happy, employees have needs in their professional lives as well. According to a LinkedIn report, 94% of those surveyed said they wouldn't quit their job if they were given an opportunity to learn and grow. Identifying these needs is one of the primary goals of a mid-year performance review.
Driving a company's development. An employee with the motivation to achieve long-term professional goals within a company can significantly contribute to the success of a business. Imagine a company's progress when every employee is continuously improving and productively contributing to the success of the company.
Having your finger on the company's pulse. Managers must know what their employees are working on, their general attitudes toward work, their levels of job satisfaction, and how all these factors affect their productivity. Thus, the mid-year assessment is it's an excellent tool for keeping up with the ins and outs of the current working environment.
Timely problem-solving. Many businesses operate dynamically since both short-term and long-term strategies depend on the state of the market. Due to the possibility of changes, one productivity assessment a year may reveal low efficiency, and the issues and goals to discuss with employees might be outdated. Thus, the mid-year employee assessment allows managers to react to workplace events in a timely manner and adjust employee positions to the company's current needs.
The Fundamental Structure of the Performance Review Process
To conduct a meaningful and well-organized performance review, it's essential to know the elements of this process. This will allow management to build the performance review brick-by-brick and get the most out of it.
Explore the data illustrating employee performance. Whatever methods you use to collect information on employee productivity, you should gather data for the last half of the year and analyze it. To simplify this task, you can use specific web tools like Beams.ai that form detailed statistics in the blink of an eye using regular quizzes and pulse survey questions.
Praising employee strengths. To increase efficiency, first, express plenty of praise to your employee. This will help employees remain motivated — 67% of those surveyed felt fully engaged after receiving positive performance feedback, compared to 31% who lacked motivation after receiving mostly negative feedback.
Highlighting areas of development. Discussing an employee's current weaknesses in the workplace is the most challenging part of a performance review. As a result, 56% of employees surveyed said they don't receive feedback on what to improve. To maximize employee satisfaction and company growth, employees need to be given an honest evaluation and, in some instances, an employee development plan.
Collecting employee feedback. Even though the main goal of a mid-year performance review is to evaluate employee performance, this process is still a two-way street. Employees should be encouraged to express their thoughts on the working environment, company processes, and professional relationships. Employee feedback gives managers valuable insight to know which company areas can be improved to make workers feel more engaged and motivated.
9 Tips for Smooth Employee Performance Evaluations
Do you want your workers to feel motivated and hopeful about their future in your company after the mid-year productivity evaluation? If so, you can apply the helpful tips below to make this experience as smooth as possible.
1. Prepare in advance
We realize that a manager's job is hectic due to the need to perform continual tasks involving communication and organization. Even so, it's best to make time to fully prepare the following before the evaluation process: questions to ask your employees related to productivity and job satisfaction, final employee performance statistics, and proposals on how to boost employee performance and satisfaction. If you put in the time beforehand, you can conduct well-structured meetings to positively affect your workers and make the most of your time.
2. Let an employee get prepared
One of the key goals of a productivity review is to get a clear picture of how a particular worker operates, their most significant challenges, and what drives their motivation to work in this specific company.
Understandably, not everyone can generate answers to such complex questions right away. Therefore, it's considered good professional manners to provide a worker with a list of the main questions that you are going to ask at the evaluation meeting. This will allow your employees to provide well-thought-out and meaningful answers.
3. Use transparent metrics
Trust and fairness are the backbones of employee evaluations, especially when a worker's salary raise depends on the meeting results. That's why it's crucial to use transparent metrics to demonstrate that your arguments and conclusions are reasonable.
For this purpose, managers who want to save time while also getting accurate statistics on different performance parameters use digital solutions like Beams. With its simple tools, you can have data records on the average levels of workers' engagement, commitment to the company, and general emotional state.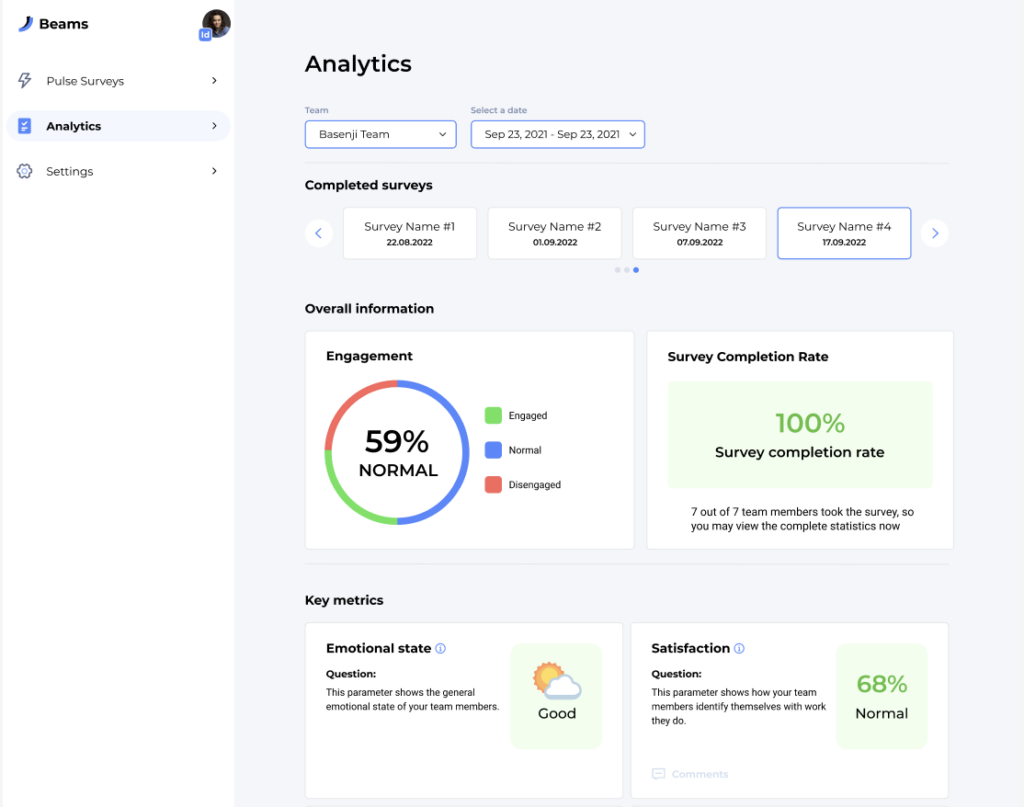 4. Consider the results of the latest appraisal
To provide a fair employee evaluation, base your conclusions on the latest goals, not a subjective image of how an employee should have been operating. Analyze if all the objectives and expectations were met. Don't forget to acknowledge and celebrate areas in which employees exceeded their goals; this will encourage continued positivity and productivity in the workplace.
5. Don't use negative statements
Sometimes managers have to give employees negative feedback, and many consider this to be the most challenging and unpleasant part of an employee evaluation. However, 92% of employees surveyed said they want honest feedback on their areas of weakness and suggestions for improvement, but these should be delivered appropriately and in a positive manner.
That's why managers should use the power of diplomacy to communicate all needs and suggestions in a positive way. Otherwise, workers may feel unmotivated and undervalued. If you must share some constructive criticism, it's recommended to address a particular task/situation — not a person.
6. Engage and motivate employees to develop
To gain value from the mid-year performance evaluation, employees should consider the insights they've gained from the evaluation and work on the areas of improvement during the following two quarters. Employees need a clear plan for professional development to help them reach their new goals; this employee development plan can be created by the employer or the employee.
According to 72% of employees surveyed, recognition given to high performers also increases engagement in the workplace. Discussing a company's future and the employee's role in it can also help with long-term motivation.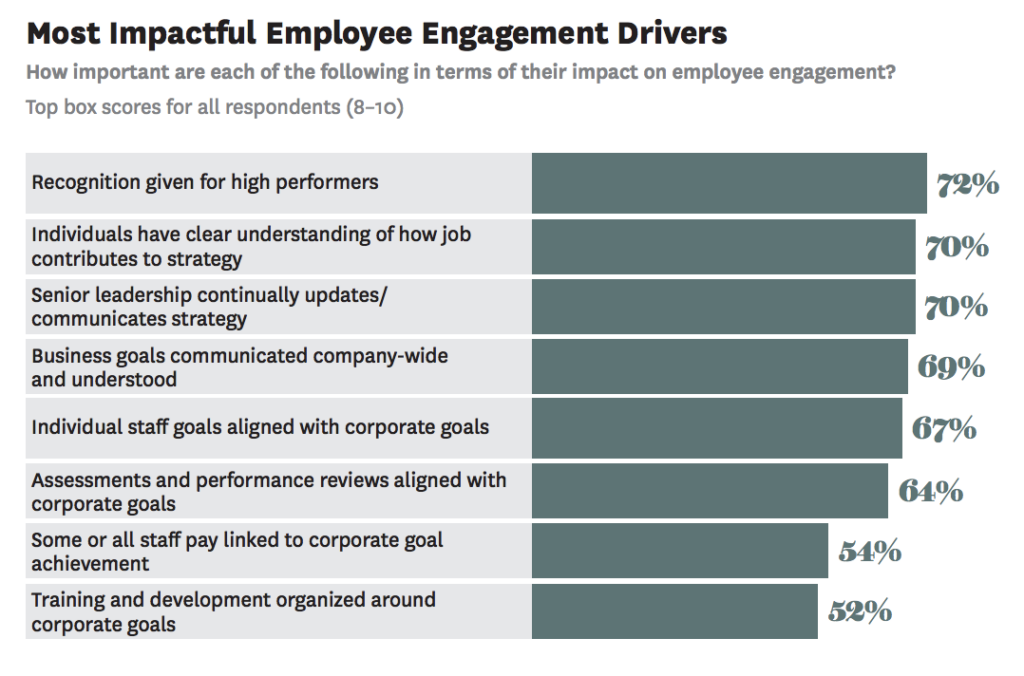 7. Evaluate both soft and hard skills
According to the Stanford Research Institute and Carnegie-Mellon study, 75% of long-term job success depends on the soft skills of an employee. Robust communication, time management, decision-making, and similar skills allow employees to complete their jobs with maximum efficiency.
8. Set SMART goals for the upcoming period
The mid-year evaluation provides not only a look at the past but also at the future. This allows managers to help their employees set goals for the upcoming period. The Society for Human Resource Management (SHRM) suggests integrating the aspects of the SMART concept when developing professional goals:
Specific, clear, and understandable
Measurable, verifiable, and results-oriented
Attainable yet sufficiently challenging
Relevant to the mission of the department or organization
Time-bound with a schedule and specific milestones
9. Send a follow-up email after the performance evaluation
Emailing the notes from the evaluation meeting to an employee is an excellent practice for sharing insights and setting new goals. The employee can then review the notes from their evaluation in detail and be able to refresh their memory during the upcoming period. An attached step-by-step professional development plan will also come in handy for an employee.
Performance Review Examples: 20 Useful Phrases & Questions
Finding the right words to praise, constructively criticize, or ask questions may be challenging. To feel more confident about your phrases and questions, you are welcome to use the following examples.
Examples of Helpful Performance Review Phrases
Even an employee of the month has both strengths and weaknesses. Managers should highlight both, using the appropriate quality of work performance review phrases like the ones below:
Appraisal phrases
Over the last half of the year, you've achieved 100% of your set goals. This shows that you are a purposeful person who never gives up.
You have frequently shared great ideas with management and your teammates. Thanks to you, our company has implemented some helpful practices that have increased overall productivity!
It's always a pleasure to communicate with you, and your enthusiasm for taking on new challenges is contagious! You are a valuable contributor to a positive working environment.
We noticed that you tend to fix your mistakes and never repeat them afterward. Your ability to analyze and take action to improve is praiseworthy!
Your teammates describe you as a reliable employee and a professional in your area of expertise. This makes you a robust team player who positively affects the other employees you work with.
Constructive criticism phrases
I've noticed that you perform amazingly when you focus on a task 100%! What do you think of honing this skill even more to unlock your full potential? I feel like it would lead you to the next level of your proficiency.
According to your evaluation results, you put forth less effort toward the goals you find challenging. What kind of support can our company offer you to make things easier?
Communication is an excellent skill of yours! You could have many more professional opportunities, however, if you'd pay more attention to work and a bit less to chatting with fellow coworkers.
During the last two quarters, you've missed deadlines for three tasks. I'd like to hear about the barriers that caused these delays and develop an efficient solution to this issue together.
Your speed of task completion is awe-inspiring! However, it frequently entails missing essential details and misunderstanding the main target of an assignment. Please take your time while doing a job, as you are welcome to operate at a comfortable pace that fits into deadlines.
Performance Review Questions
The following is a list of standard questions that need to be asked during the evaluation process:
How would you evaluate your performance for the last two quarters?
What areas would you like to improve upon?
Which of your latest accomplishments are you most proud of?
What factors have been motivating you to reach your latest goals?
What are your biggest challenges in professional development?
Additionally, you can ask deeper questions that should positively impact employee productivity during the upcoming period:
Are you happy with the position you are currently occupying?
What can management do to help you achieve your goals?
Do you believe that the current working environment positively affects your productivity?
Do you find it easy to communicate with your coworkers and management
Do you have everything you need to perform your job well?
The Mid-Year Productivity Review is Over — What's Next?
As always, continued management and communication are crucial. Depending on the evaluation results, employees require different amounts of your attention. The most capable and autonomous employees can usually handle their new goals independently, yet praise or constructive criticism, made at the right time, can motivate them even more.
In contrast, workers with average or below-average results require more of your attention and supervision. Such employees might need an additional management system. And once you find the proper praise-to-criticism ratio, the performance of those employees is more likely to improve.
Beams.ai can be your helping hand. This multi-tool solution allows you to monitor your employees' mental state, gather statistics on various performance parameters, and exchange timely feedback.