According to the latest Gallup study, 60% of employees reported feeling disengaged at work, while 19% claimed to be miserable. Such a drop in engagement usually decreases a teams' performance and hinders a company's development. That's why wise managers take employee satisfaction seriously and work towards improving it.
But how do you know when your employees are starting to disconnect from work, as well as how to prevent it? The NPS (net promoter score) method is one of the most efficient metrics for calculating employee engagement. Based on survey questions, it enables workers to rate their work experience and attitude with scores.
When utilizing this method, it's crucial to ask the right questions to get clear answers. This article will give examples of employee engagement survey questions that managers can use for checking employee pulse.
How to Prepare for an Employee Engagement Survey: 5 Essential Practices
It's better to think through employee engagement survey questions well before presenting them to your workers. To have a jumping-off point during the development of specific survey questions, you are welcome to use the five primary approaches below.
1. Focus on the areas that matter
The questionnaire an employee completes should contain the most relevant questions to your company and reflect its current priorities. For example, if transparent communication is a key component of your company's culture, ask your employees if they feel free to express their opinions and share new ideas with the management.
2. Prioritize questions in a logical order
The structure of a survey should be logical. For instance, people are usually more focused at the start and can get tired by the end of taking a survey. Thus, placing all the essential questions first is an optimal decision. It's also an excellent practice to group questions by type so that the calculation will be more straightforward.
3. Don't use an informal style
The desire to make your survey sound friendly can confuse some people. For instance, the use of informal expressions and questions may be considered disrespectful by some workers. Therefore, it's better to keep this communication formal, but it doesn't have to be cold. Use words and phrases such as please, don't hesitate to, you are welcome to share your opinion, etc.
4. Avoid insensitive questions
Some types of questions can seem inappropriate or trigger negative emotions from workers. It usually happens when a survey contains the request for an employee to rate the personal qualities of a specialist or to compare their team productivity with others. Therefore, all the questions should be transparent and strictly professional.
5. Develop a reliable system
The creation and regular conduction of team surveys take too much time to complete manually. Constantly tracking the entire process of survey completion is also exhausting. It's more resource-efficient to have a digital system that can complete the process automatically.
Web tools like Beams.ai provide ready-to-use surveys developed by psychologists, which can be set up to be given to employees at a specific frequency. The surveys also collect all the results into illustrative statistics by default.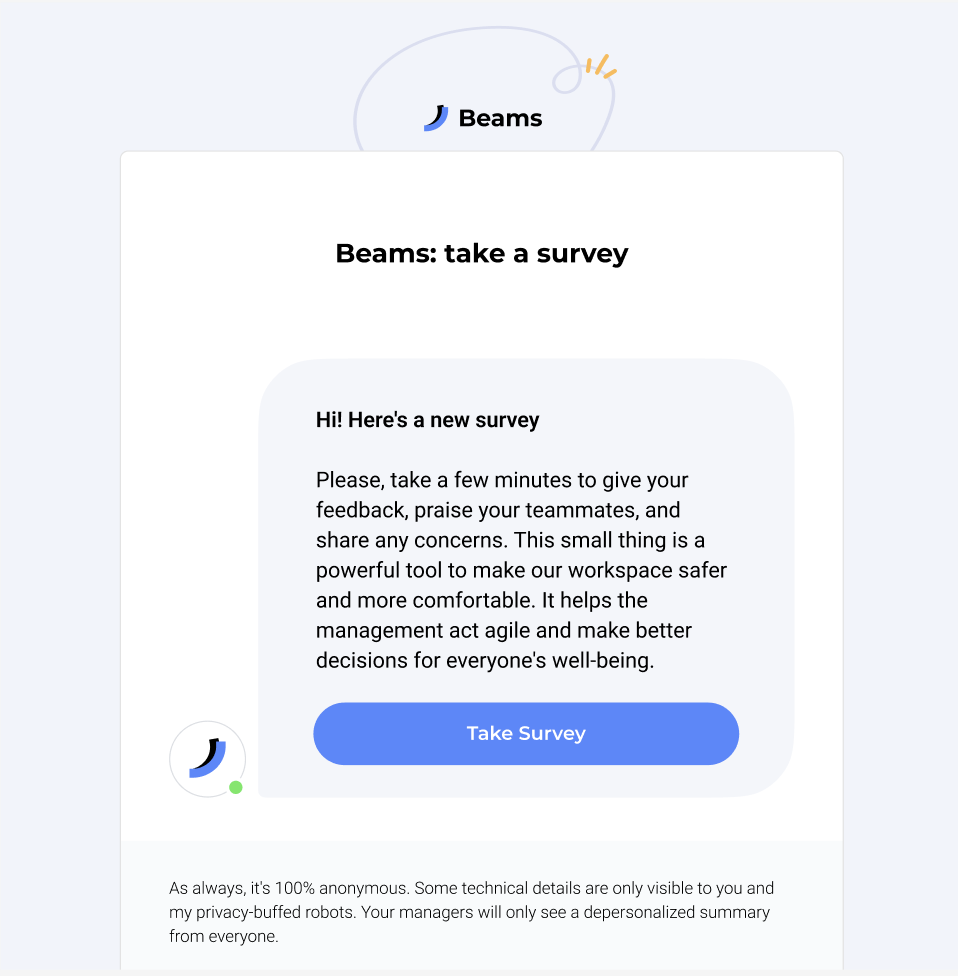 Survey Questions on General Job Engagement
Do you believe that your job positively impacts the company?
Do you understand how your job aligns with the company's mission?
Do you feel proud to be a part of this company?
Do you usually feel enthusiastic when executing assignments at work?
Do you have any long-term goals that you would like to achieve within this company?
Employee Feedback Questions on Working From Home
Do you feel connected to your team when working from home?
How do you estimate your average energy level when working from home?
Do you feel involved in day-to-day company processes when working remotely?
How does remote work affect your professional growth?
Do you feel inspired and motivated when working remotely?
Employee Survey Template on Management Satisfaction
Do you feel that your opinion & feedback matter to your manager?
Do you usually get the help you ask for from your management?
Do you have everything you need to do your job smoothly?
Do you usually feel appreciated by your manager?
Does your manager encourage you to contact them in case of any need?
Questions to Analyze the Working Environment
Is it easy for you to ask your coworkers for help?
Can you ask additional questions without feeling ashamed that there's something you don't know?
Do your coworkers give only constructive feedback on your work?
Do you feel comfortable giving feedback to your coworkers?
Do you feel motivated and inspired by your workplace and the people surrounding you?
Feedback on Work-life Balance and General Well-being
How often do you feel emotionally drained after your workday?
Do you believe that your company cares about your mental and physical well-being?
How do you evaluate your work-life balance?
Do you feel your company respects your personal time?
Do you feel your work affects your personal life and family relationships?
How Often Should You Utilize Employee Engagement Survey Questions?
Along with annual and mid-year performance reviews, it would be beneficial to gather feedback on employee engagement every two weeks.
This will give you a clear and up-to-date picture of how your employees feel about your company, their job, and periods when they need the most support. You can ask the universal questions provided below, or they can be used as an inspiration.
Let Beams.ai Do the Work for You
Avoid the pitfalls of improper questions and save yourself time with Beams.ai — an all-in-one solution that covers the entire survey process.
No need to come up with questions and select the right words since Beams offers interactive surveys developed by psychologists.
You can set up any suitable frequency, and the system will automatically invite workers to take engagement quizzes right in Slack.
Once a survey is finished, employees get step-by-step recommendations on how to deal with challenges they face, while managers get statistics on various engagement parameters.
Are you ready to take your employee engagement to the next level? Then join Beams.ai with a 30-day free trial and check it out as a part of your communication strategy.