​​Employee engagement has recently become a hot topic as researchers reveal the consequences of a disengaged workforce. For example, detached employees make 41% more mistakes and show 81% more absenteeism than those highly invested in their work. Accordingly, this leads to decreased productivity and overspending to cover the losses.
Moreover, with many companies embracing remote work and hybrid models, keeping employees engaged and connected to the organization's mission can be challenging. This is where employee engagement apps come into play.
Employee engagement apps are a powerful tool for connecting and engaging with employees, improving communication, and enhancing productivity. However, with an overwhelming number of products available on the market, it can be challenging to determine which one is the best fit for your business.
From Beams.ai to 15Five, WeThrive, and more, read on to discover the benefits, features, and pricing of the top tools used to measure employee engagement, then take the first step toward improving your business indicators.
Top 9 Employee Engagement Apps
Explore the nine products below to find the best employee engagement app that fits your business scale, budget, and the requirements of your management team.
1. Beams.ai
Beams.ai is a web application that stands out with its intuitive design and its focus on employee well-being. It allows one to take stock of team morale and measure it with detailed analytics. With its research-backed pulse surveys, it's easy for managers and the HR department to monitor employee sentiment. The employee feedback tools let team members express their opinions anonymously to foster honest communication within a company.
The app also offers a recognition feature designed to motivate your employees, foster stronger relationships within teams, and create a truly inspiring work environment. Eventually, Beams.ai makes creating meaningful connections between employers and employees simple, so you can identify what's going well or needs improvement.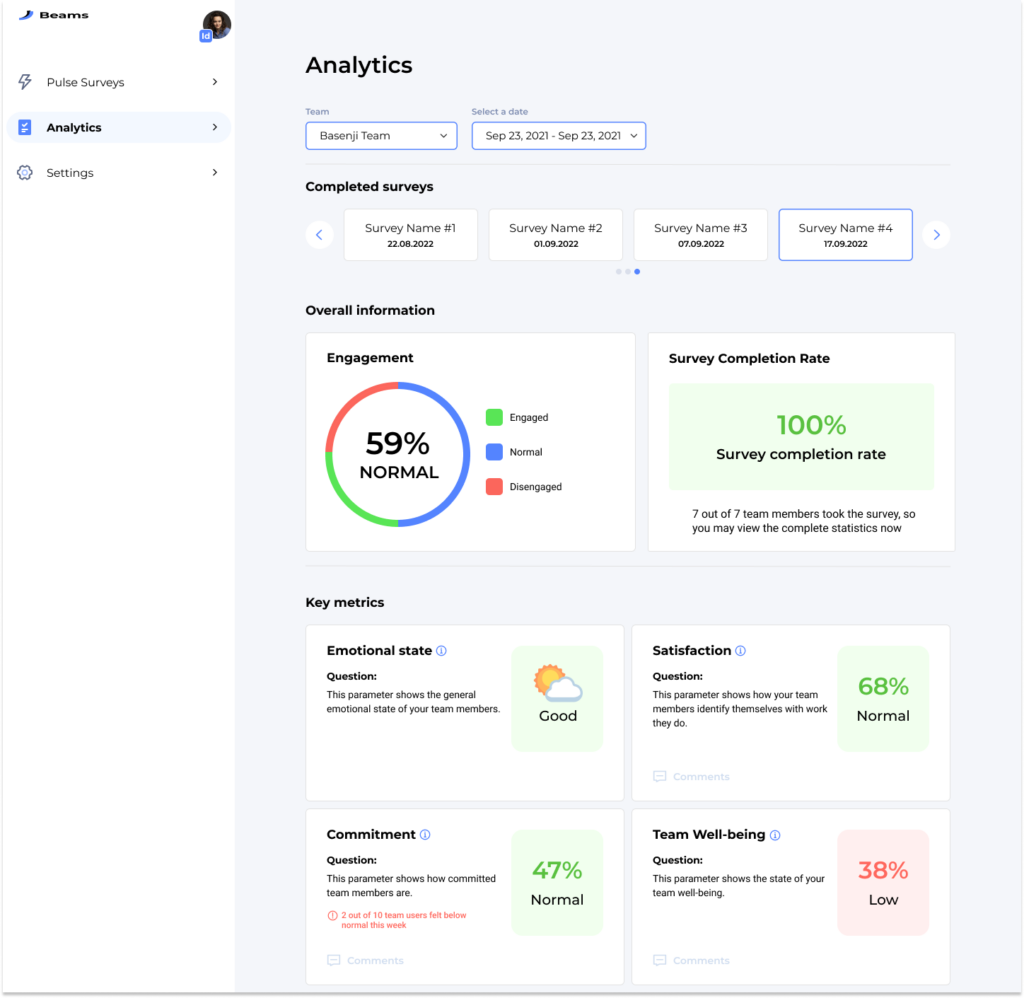 The app integrates with popular business tools like Slack and Microsoft Teams, enabling seamless communication and collaboration across platforms.
Pricing:
Small Teams with up to 7 Employees
Midsize Teams
Large Enterprises
Free Trial
Free plan
$4 per team member/month
($3.20 per user/month if you pay annually)
A premium plan with individual pricing
14 days/demo
2. 15Five
15Five offers a range of tools for maintaining open communication with employees, improving performance, and driving business growth. The app's features include weekly check-ins, goal setting, and feedback management tools.
Employees can use 15Five to submit weekly reports to their managers, outlining their progress on tasks, achievements, and any issues or concerns they may have. Managers can then use the app to provide feedback, offer guidance, and make data-driven decisions based on the insights provided by the app.
The app integrates seamlessly with popular HR management tools, making it easy to incorporate into existing workflows.
Pricing:
Pay by Feature
Total Platform Plan
Free Trial
– Engage — $4 per user/month
– Perform — $8 per user/month
– Focus — $8 per user/month
(billed annually)
$14 per user/month
(billed annually)
14 days/demo
3. Bonusly
Bonusly provides a simple and intuitive platform for employees to show appreciation for each other through a peer-to-peer recognition system. With a range of reward options, including gift cards, charity donations, and custom prizes, Bonusly offers businesses the flexibility to design recognition programs that meet their unique needs and values.
In addition, it provides analytics and reporting features to track recognition and engagement levels. The app generates detailed reports on employee recognition trends, helping businesses know when it's time to optimize their employee recognition strategies.
Bounsly integrates with tools like Slack, Microsoft Teams, Zoho, Google Chat, etc.
Pricing:
Basic Plan
Pro Plan
Custom Plan
Free Trial
– $2.70 per user/month, billed annually
– $3 per user/month,
billed monthly

plus the cost of rewards
– $4.50 per user/month, billed annually
– $5 per user/month, billed monthly

plus the cost of rewards
Individual pricing plans for mid to large companies
Contact to learn details
4. TINYpulse by Limeade
Limeade Listening, formerly TINYpulse, is full of tools for enhanced team engagement and collaboration, including weekly check-ins, pulse surveys, anonymous feedback, recognition and rewards, performance tracking, and goal setting.
The app's recognition and reward tools allow managers to publicly recognize employees for their achievements, boosting morale and improving engagement levels. In addition, performance-tracking and goal-setting tools help employees align their goals with broader business objectives.
5. WorkTango
The former Kazoo provides teams with pulse surveys, annual surveys, an employee feedback tool, and real-time analytics. The app also comes with various other tools, including recognition and rewards, coaching and development, and goal setting.
WorkTango offers its users customizability, catering to businesses' unique needs and values. WorkTango seamlessly integrates with Human Resource Information System (HRIS) and Human Capital Management (HCM) systems to ensure that employee data is organized.
6. SnapComms
SnapComms is an employee engagement app that improves internal communication through various channels like desktop alerts, screensavers, digital signage, and surveys.
The app's standout feature is its survey tool, which collects employee feedback quickly and efficiently with customizable templates. SnapComms also allows managers to track teams' engagement levels and measure the impact of internal communications with its analytics tools.
7. Workday Peakon Employee Voice
Workday is an all-in-one app for HR and finance management that includes features for employee engagement. The app offers a range of tools to help businesses manage their workforce, including performance management, talent acquisition, and succession planning.
Workday's Peakon Employee Voice features include rewards and recognition programs, employee surveys, and feedback tools. The app also provides analytics and reporting capabilities.
8. Enboarder
Enboarder is designed to improve the onboarding experience for new hires. The app provides a personalized onboarding journey for each employee, including training, feedback tools, and communication channels.
Enboarder's engagement features enable businesses to create a positive first impression for new employees, improving retention and engagement rates. It integrates with Slack, Jira, DocuSign, etc., so making this app a part of your work environment is easy.
9. WeThrive
WeThrive focuses on collecting feedback from employees to build awareness among the management, which allows employers to take action to improve teams' engagement levels. Companies can utilize various tools, including pulse surveys, 1:1 meetings, and analytics. The app also provides resources like webinars and guides to help businesses create an engaged and motivated workforce.
WeThrive integrates with several online HR software providers, such as BreatheHR, PeopleHR, and HiBob.
Pricing:
Basic Plan
Pro Plan
Enterprise Plan
Free Trial
£5 per person/month

Minimum 50 employees

Billed annually
£8 per person/month

Minimum 50 employees

Billed annually
Individual pricing plans for companies with 200+ employees
Demo presentation
The Power of Employee Engagement Apps
Explore the research-backed benefits of using the right employee engagement tools.
Benefits for Employers
Increased productivity. The research found that when employees feel their voices are being heard, they are 4.6 times more likely to feel empowered to perform their tasks to the best of their abilities.
Reduced turnover rates. By providing employees with a platform to voice their opinions and concerns, employers can identify and address issues that may lead to high turnover rates, resulting in a more stable workforce. Once employee engagement increases, turnover decreases by 18% for high-turnover organizations and 43% for low-turnover organizations.
Improved accuracy. When employees are engaged, they are more focused and attentive to their work, resulting in a lower likelihood of errors and mistakes. Therefore, companies with highly engaged employees show a 41% decrease in workplace errors.
Data-driven decisions. Employers can gather significant insights and make informed decisions by collecting and analyzing employee feedback. This feedback enables employers to create work conditions and policies that align with their employees' unique needs and preferences.
Benefits for Employees
Increased job satisfaction. Implementing an engagement app shows employees that their opinion is valuable to their management. When employees feel that they are treated with respect, they are more likely to report higher job satisfaction and a willingness to remain loyal to their company.
Improved work-life balance. Employee engagement apps can help employers identify work-related issues that may lead to a poor work-life balance. As a result, managers can take action to establish a more healthy work environment that won't harm employees' personal lives.
Less chance for burnout. Apps for employee engagement often include features allowing employees to acknowledge their peers' accomplishments and hard work, increasing job satisfaction and reducing burnout.
Sense of belonging. Employee engagement apps serve as a powerful tool to foster a shared sense of unity among coworkers, leading to a more positive, supportive, and productive work culture.
Key Features to Look for in Employee Engagement Apps
The best employee engagement apps are not overstuffed with dozens of tools you won't even use. The essential features below are enough to make a difference:
Surveys. Employee engagement apps should include a survey tool that allows you to collect employee feedback on various aspects of their work. For example, job satisfaction, work-life balance, and company culture.
Anonymous feedback. When employees have a safe space to speak up, it helps foster a culture of honest communication and collaboration. Managers can use this feedback to identify areas for improvement and take proactive steps to address issues.
Recognition. This feature allows employees to recognize and celebrate their peers' accomplishments and hard work, promoting a sense of community and boosting morale.
Analytics. This tool provides detailed analytics on employee engagement levels, survey results, and other metrics. That will help you make data-driven decisions about improving work conditions and policies.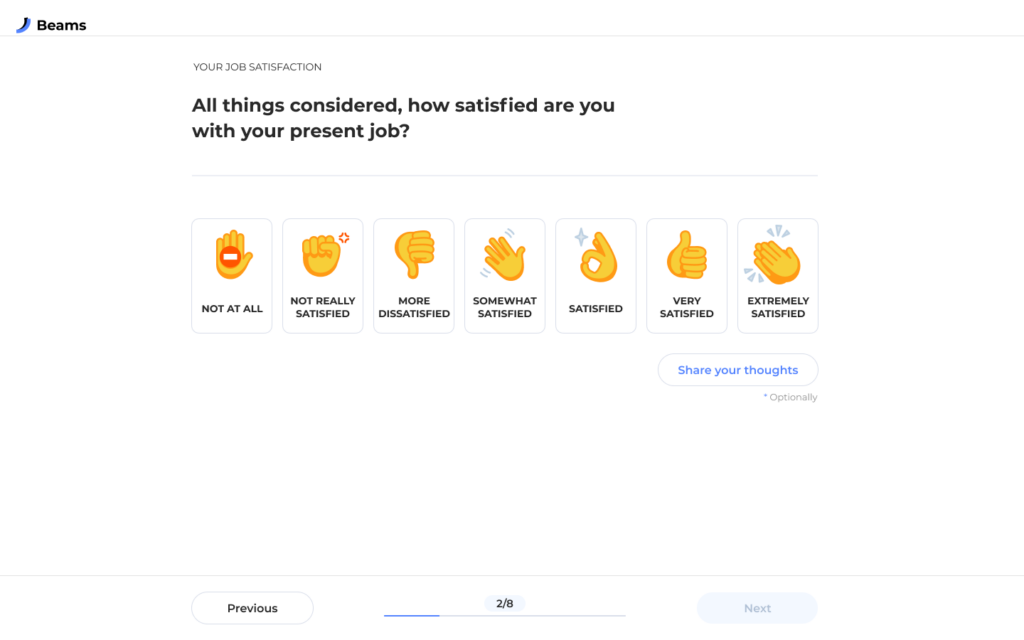 The Best Practices for Adopting Employee Engagement Apps
The successful implementation of employee engagement platforms requires careful planning and execution. Here are some insightful tips for getting employees on board and using new tools effectively:
Gamify the process. To make the app fun and engaging, gamify the process by setting up contests or challenges that reward employees for their participation. This approach can generate excitement and encourage everyone to get involved.
Host a launch event. Gather your teams for a fun and impressive presentation. Use this opportunity to showcase the app's features that will benefit employees.
Incorporate employee feedback. Involve employees in the development process by soliciting feedback on what challenges they experience while using the app. Then, do what's in your power to make this experience more appealing and user-friendly.
Create a sense of community. Use the app to foster a sense of community among employees. Encourage employees to share their accomplishments and milestones, recognize each other's achievements, and collaborate on projects.
Offer rewards and recognition. Use the app for employee recognition and rewarding those with outstanding engagement levels. Highlight their accomplishments publicly to boost morale and promote healthy competition among employees.
Provide ongoing support. Make sure your employees understand how to use the app effectively by gathering in-person feedback shortly after the launch. Offer training sessions, tutorials, and supervisor support to address questions or concerns.
Boost Your Employee Morale With Beams.ai
Even though the technology market is full of employee engagement solutions, finding a tool tailored to your company's specific needs is still hard.
While most applications require adjustment, Beams.ai was designed with superb usability in mind to serve users efficiently and without causing additional challenges.
With Beams.ai, you can collect feedback from employees quickly, make data-driven decisions about work conditions and policies, and recognize outstanding employees.
Request a demo or contact us for a free trial to experience all the benefits for yourself.